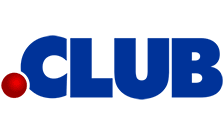 You can register .CLUB domain names here …
There are literally millions of established "clubs" throughout the world. From Social clubs, to Health Clubs, to Sports Clubs, to Yacht Clubs, to Golf and Tennis clubs, Country Clubs, Chess Clubs, Night Clubs and on and on and on and on and on. Clubs are everywhere. There are clubs around everything. There are clubs in every country. There are clubs for everyone.
But .CLUB is bigger than all these clubs.
.CLUB is about more than providing established clubs with the best possible domain name.clubmember
.CLUB is the ultimate social domain name, making it easy for anyone and everyone to bring people together around common interests and passions – and own the perfect domain for their community.
According to AllFacebook there are over 600 million Facebook "groups." People are starting "clubs" around their interests every single day. Millions of people. Until now, these tribes and communities never had a way to truly be masters of their own domain.
They've settled for "Facebook Groups" and "Google Plus Communities" because they had no other option. No other name that truly expressed their purpose. That is about to change…
Why .CLUB: Top 5 Reasons
• High profile premium names like Poker.club, Book.club, Golf.club, Wine.club, Yacht.club, Tennis.club and thousands more.
• "CLUB" adds valuable meaning to literally any word.
• "CLUB" is a global phenomena – it carries the same spelling and meaning throughout the world.
• Every business needs a .Club.
There are countless existing clubs.
Every consumer facing business needs a .Club for their affinity/loyalty/customer community.