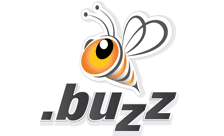 You can register .BUZZ domain names here …
The time is now. .BUZZ is live! Create buzz and you have the ear of the world. The .BUZZ registry creates a sustainable, valuable name space for those wanting to show the world what's happening right now. .BUZZ will be the prime online destination for Web developers and users alike to create and seek out the latest news and developments on a variety of topics.
.BUZZ is a self-sustaining TLD. The world is abuzz with new events each day providing ongoing opportunities for new .BUZZ domain name registration and development. Better than any TLD offering, .BUZZ accommodates the Internet industry's stated desire for new quality name space. One of the first pure generic strings to be launched, .BUZZ is short, edgy, fun, and globally recognized.
General availability for .BUZZ is open. General Availability is a first come, first serve process providing the opportunity to secure .BUZZ domains as soon as they are available. General availability registration is available through our .BUZZ registrar partners.